This is the ultimate mens gift guide if you are shopping for a rural, farmer, or blue collar man! As a farm family, it can be hard finding mens gift guides that relate to our lifestyle! Shopping for husbands, especially farmer husbands, is one of the most challenging holiday traditions. What does one need who has everything he needs? Or how do you keep up with a list that includes but is not limited to: a new combine, 120'x160' heated shop with wash bay, various accessories for hunting, etc. Finding a meaningful gift can be a really daunting task.
Ryan and I put together this guide with products that were once received as gifts OR products that he uses and loves. At the end, I've included a list that my community on Instagram helped me curate! If the man in your life is an avid outdoorsman, farmer, or hard worker; I am confident he will love everything this gift guide has to offer!
This post contains Amazon Affiliate links, which means I make a small commission on some items purchased through the links shared below.
RTIC Soft Pack 20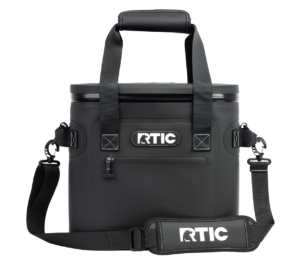 This cooler is always being used around here. The man in your life will love it for packing lunch and beverages to keep in his truck and/or tractor for work. It will truly stay cold all day, even in a hot vehicle. Ryan particularly loves this cooler for the combine and/or tractor. It is big enough to store beverages and food for all day and half of the night, but small enough to not take up the entire tractor cab. Bonus, it makes the perfect little stool for a tiny farmer when the buddy seat is occupied. The cooler also comes in a smaller lunch box size, and two other larger sizes. We have owned the 20 can size for a few years now and love it…so much so that I'm going to be upgrading to the newer model because our puppy chewed the zipper off.
Carhartt Sherpa Lined Vest
My farmer husband had been making comments about wanting a Carhartt vest, but also that his coat 'worked just fine for now' for what felt like years. A few years ago I purchased this sherpa lined vest for him, and it was such a hit that I got him a different color for Christmas the following year. He wears it every time he walks out the door to go outside in cooler months-whether it is to work or play! My husband is 6'7" so we have always appreciated the tall size options that Carhartt offers. If your man isn't much of a vest guy,
Carhartt makes great quality sweatshirts, thermals, and a variety of work and 'dressy' T-Shirts. There is always something Carhartt under the tree at our home. If you are local to southern Minnesota, locally owned C & S supply in Mankato carries the extended sizes, we value supporting local small businesses when possible!
Andy Clean Equipment Wash
Check out a list of dealers HERE. This is our favorite cleaner to use with our pressure washer!
Minnetonka Moccasins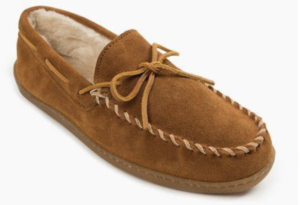 Because even the manliest man still gets cold toes, especially when you live in Minnesota! Every ice fisher needs a pair of moccasins to keep in the fish house, as well as a pair at home. These have been well loved for many years and are a staple of his limited 'relaxation' wardrobe.
Apple Airpods
I don't know if my husband has ever actually used these to listen to music or podcasts, but I know he has spent HOURS using them talking on the phone. They allow him to stay hands free while in farm equipment and still manage the phone calls he is on quite frequently. I actually washed his first pair by accident this summer-whoops! So he is on his second pair and loves them just the same.
Other headset options:
3M WorkTunes Hearing Protection
Huk Performance Long Sleeve
I purchased one of these Huk shirts for my husband for his birthday last winter after I saw him eyeing them up while walking through our local Scheels. He wears it all year round. In the winter it makes a great base layer under sweatshirts, vests, etc. In the summer months he wears it while mowing the lawn or when out in corn fields to protect his skin. He owns the light gray and white; both wash up super well even when covered with dirt and sweat. Highly recommend this brand, even if you aren't an avid fisherman/woman!
Ice Armour Gloves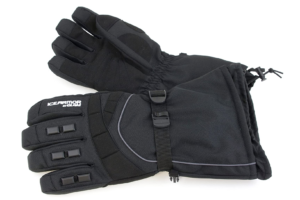 These ice fishing gloves are a favorite-whether he is ice fishing or out for a short cruise on the snowmobile. Ryan likes how they cover more of his arm so the cold air, water, snow, etc. can't sneak up into his coat and onto his skin. They have worn well and allow him to still fish with ease. These gloves have been a go-to for almost a decade. He has had a few pairs.
Stanley Thermos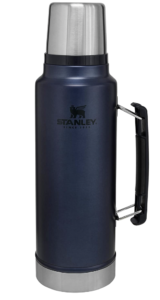 A classic! I remember my dad always using one of these. In fact, I am fairly certain he still has it! Ryan has one now as well and uses it to keep coffee warm if he has a late night out in the tractor or combine. He has also used it to keep soup warm to eat later on while in the tractor as well. I love the classic green color as well as this pretty navy! I found ours at Scheels, but have also seen them on Amazon.
Camo Crocs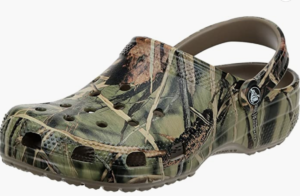 Aren't these just a staple of manhood? Or maybe I mean fatherhood…
Even if he already has a pair, flip them over and check out the bottom! If the tread is wearing down it is time for an upgrade! These make great house shoes as well.
Cheers to Farmers Glass + Ice Molds + His favorite Whiskey
The perfect trio! Drinking glasses + Ice + Whiskey.
You've got to check out these adorable glasses from Hungry Canyon. Perfect for the farmer or farm fanatic in your life! If your husband is a whiskey drinker and hasn't tried ice spheres, he is missing out! Alone, these would be the perfect stocking stuffer. Pair them with a bottle of his favorite whiskey and the glasses for a more complete gift.
52 Lists of Togetherness
So many deep conversations and endless belly laughs while working through this book together. Being a farming family, our schedules look pretty wacky at different times throughout the year. Finding time to work through one list together each week provided us with a very informal 'date' night together, and forced us to be present, even when schedules were hectic. It is also so fun to look back and see all of the things we wrote down and the activities we worked through!
Milwaukee Brand Tools
We have always been a Dewalt farm, until the last few years. We have started shifting over our tool purchases to Milwaukee and have not regretted it for a second! Ryan's top two favorites right now are the power tower light and the grease gun.
Click HERE for the Milwaukee grease gun. A must-have on the farm.
Click HERE for the Power Tower Light (this thing is AWESOME)
Other recommended Milwaukee products included the 6 pack battery charger, Pack Toolbox, and the M18 Portable Inflator.
Duluth Trading Buck Naked Base Layers
The long underwear and the performance base layer are great purchases! They wash and hold up well. If you watch the sales and clearance prices, the cost is a bit more friendly. We love the durability of Duluth Trading products! Check out the boxer briefs here (great stocking stuffer) and the base layer (long underwear) here.
Traeger Smoker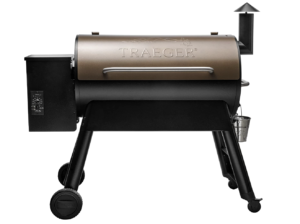 There are quite a few smoker options on the market, but we have been very happy with our Traeger. This is the only smoker we have ever owned, but it is very simple to use and learn with! We use it all year long. Shop our exact model here. There are also a variety of other models at different sizes and price points.
Crowd Sourced
Recently I asked my community over on Instagram @emilyponwith for help rounding up some gift ideas for Ryan. They DELIVERED! So many thoughtful gift ideas are going out to the special men in their lives this year!
Here are a few more recommended gift ideas across a variety of price points.
Car wash/detail gift cards
Blackstone Grill
Ion Ice Auger (for ice fishing)
Tickets to a concert or sporting events
Stormy Kromer cap
Night vision binoculars
Hat, sweatshirt, jacket, t shirt with custom farm or business logo
New pocket knife: Gerber or SOG brand
New socks/underwear
Under Armor polos and/or ¼ zip pullovers. They have tall sizes online.
Handmade tie-blanket
Hand/Foot warmers. Check out this rechargeable option
Wool socks
Fishing lures
Go Pro
Bar height folding table
Vacuum sealer for meat
Wallet
Hey Dude shoes
Cowboy boots
Stopbox
Card game or puzzles (think at home date night)
LaCrosse winter boots
Portable phone/device charger
Charging stand for phone, watch, and Airpods
Orono heated vest
Silicone wedding ring
Haircut Box
Personal Development book
New plaids/dressier shirts
Happy Shopping! I sure had fun putting this together and I hope it helps you find the perfect gift to give to your loved one(s).
I hope you and yours have a beautiful holiday season!
Emily