When our son was diagnosed with multiple food allergies, I quickly realized how many foods eggs are in! Finding recipes for eggless desserts that didn't sacrifice flavor was especially difficult. I'll be honest with you, before discovering our child had food allergies and sensitivities, I was extremely ignorant towards the whole idea. Needless to say, the last four years have been a steep learning curve for our family. One of the biggest struggles for a child who is allergic to eggs and peanuts is desserts and sweet treats. I made it my mission to recreate some of our family favorite recipes so that we could ALL enjoy them together! I hope you enjoy these eggless chocolate chip cookies as much as we do! 
You will need:
1 cup salted butter, softened
½ cup applesauce
¾ cup packed brown sugar
¾ cup granulated sugar
½ tbsp vanilla extract
1 tsp sea salt
1 tsp baking soda
2 ½ cups flour
11.5 oz semi-sweet chocolate chips + handful of butterscotch chips
Let's get baking! Before you get started with the cookie dough, preheat the oven to 350. You may also want to get your cookie sheets ready at this time. I prefer to bake cookies with an airbake pan lined with parchment paper. If you get annoyed with parchment paper always rolling up on you, crumble it into a ball and then unfold it onto your pan. Viola, no more parchment battles! 
Now that your pans and oven are ready, you need to get started with the good stuff. With an electric hand or stand mixer, cream together the butter, sugars, and vanilla extract followed by the applesauce. Mix until well combined. Use a rubber spatula to scrape the sides of the bowl before moving on to the remaining dry ingredients.
Next you will add the sea salt, baking soda, and one cup of flour. Mix on low until just combined. Turn off the mixer and add the remaining flour. Be careful not to over mix. After the dough is formed, add the chocolate chips to the mixing bowl. Our family really enjoys a combination of semi-sweet chocolate chips and butterscotch chips. We follow a 2:1 ratio of chocolate chips to butterscotch chips. You do what feels right to you! Mix the batter until the chips are just combined.
Time to grab those cookie sheets and your favorite cookie scoop. I have two different cookie scoop sizes. I make one pan of smaller cookies for the kids and one pan of larger (normal size) cookies for the adults. As you scoop the dough onto the cookie sheet, remember to leave enough space for the cookies to flatten as they bake. Want to elevate the flavor of your cookies? Sprinkle a pinch of course sea salt to the top of each of them before baking.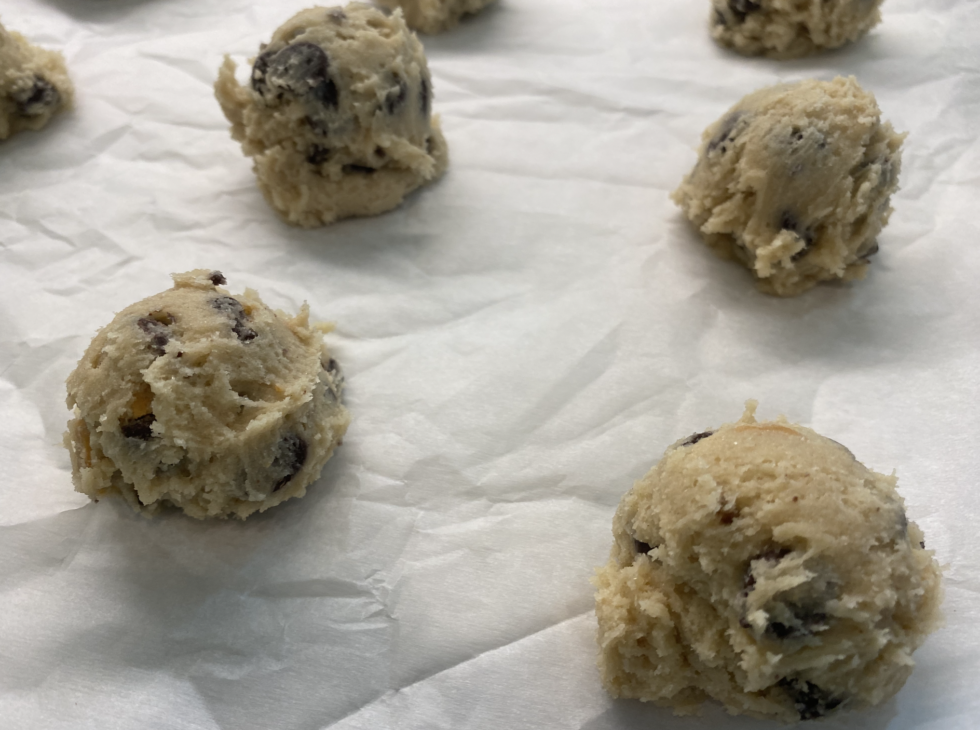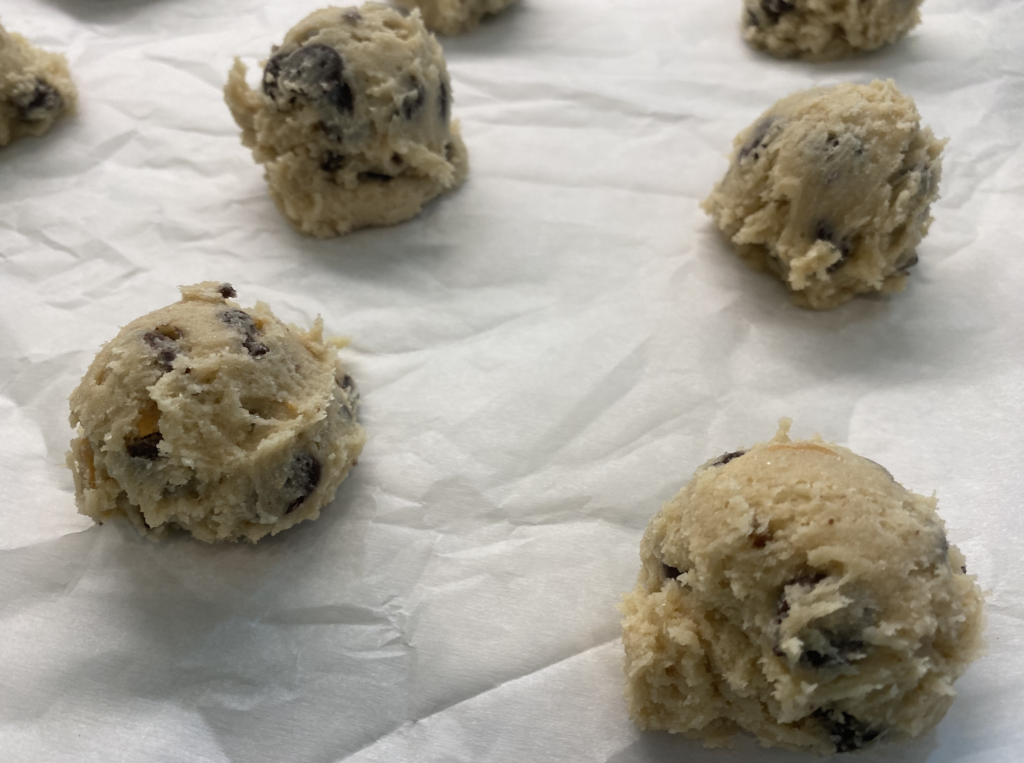 When your cookie sheet is full, place it in the oven preheated to 350 and set a timer for 10 minutes. After ten minutes, check on the cookies. If they are starting to brown slightly you should remove the pan from the oven. If they aren't browning yet, set a two minute timer and come back. The trick to the best cookies is pulling them out of the oven slightly before they are done and then leaving them on the cookie sheet at room temperature for a few minutes. 
After you have removed the cookies from the oven and they have rested for two minutes or so on the pan, use a spatula to place them on a cooling rack. No cooling rack? Simply transfer the parchment paper to a hard surface. Store in an airtight container. We like to freeze our cookies in the summertime and eat them cold!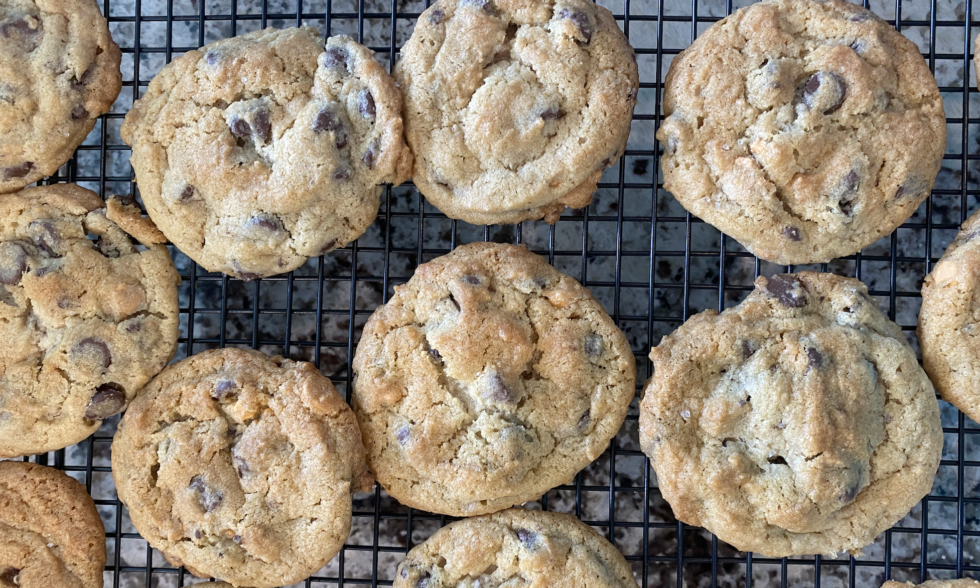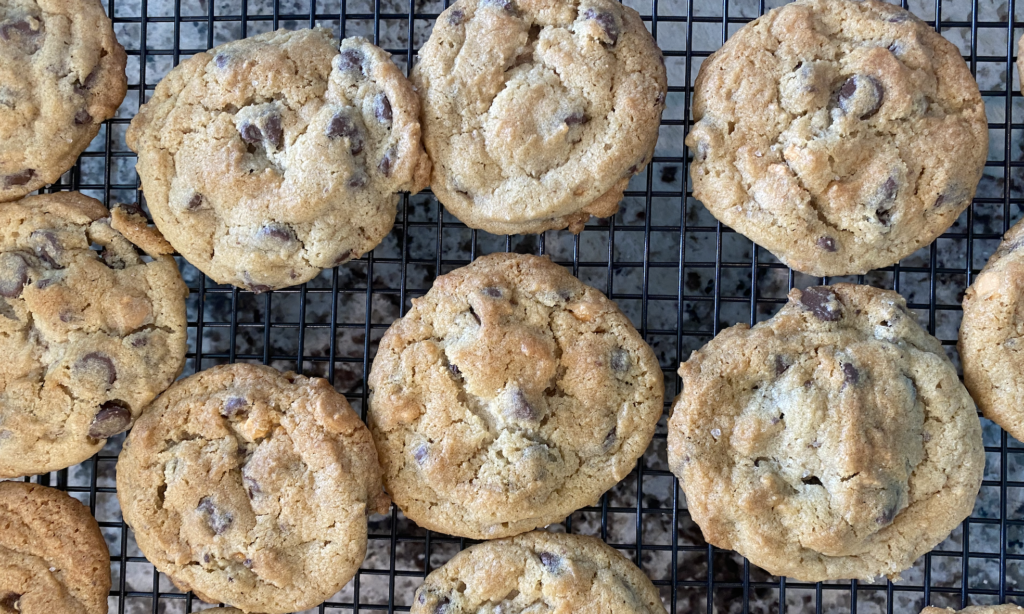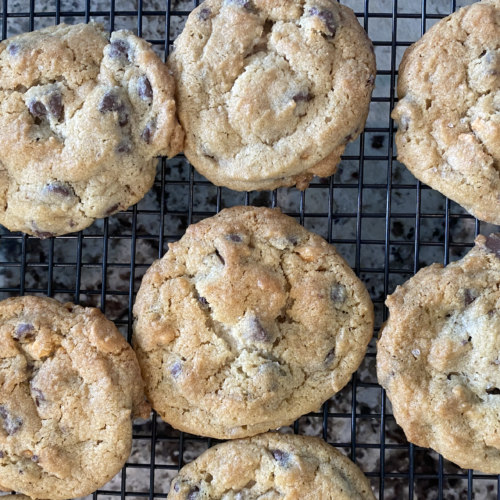 Eggless Chocolate Chip Cookies
Egg free chocolate chip cookies that don't sacrifice flavor!
Ingredients
1

cup

salted butter

softened

½

cup

applesauce

¾

cup

brown sugar

¾

cup

granulated sugar

½

tbsp

vanilla extract

1

tsp

sea salt

1

tsp

baking soda

2½

cup

flour

11.5

oz

Chocolate chips

Butterscotch chips

optional
Instructions
Preheat oven to 350°F and line baking sheets with parchment paper.

Using an electric mixer, combine the butter, sugars, and vanilla followed by the applesauce.

Mix in the sea salt, baking soda, and one cup of flour. Mix on low.

Add the remaining flour and mix on low until just combined.

Stir in the chocolate chips and a handful of butterscotch chips if you wish.

Using a cookie scoop, place the dough onto cookie sheets. Sprinkle tops of the cookies with a pinch of sea salt.

Bake at 350°F for 10-12 minutes. Let the cookies cool on the pan for 5 minutes before transferring to a cooling rack.