These Beef Burrito Bowls are simple to prepare in your pressure cooker. Yes, I did just use simple and pressure cooker in the same sentence. If you are hesitant about using yours, I get it. However, I definitely encourage you to try out some simple recipes, like this one, to build your confidence with it! These burrito bowls are a great meal to prepare on a Sunday and portion out as lunch options for the week, or simply feed a family full of growing kids. Best part about them? You only have to wash your Instant Pot and not 2-3 different pans! WIN!
Here is what you need:
1 ½ or 2 lb ground beef
1 onion, diced
1 tablespoon minced garlic
Salt & pepper to taste
1 envelope taco seasoning, or 2-3 tablespoons homemade
1 cup salsa
14oz Petite diced tomatoes
2 cups uncooked Brown Minute Rice
2.5 cups water
14.5oz Black beans, drained and rinsed
14.5 oz corn, drained
Splash of lime juice
Optional toppings: Shredded lettuce, shredded cheese, olives, salsa, sour cream, cilantro, red onion, chipotle ranch.
To get started, get your pressure cooker prepared. You will set it to saute for 15 minutes. After the liner has had a couple of minutes to warm up, add the defrosted ground beef, diced onion, garlic, salt, and pepper. Using a spatula or mix and chop, brown the beef.
As the beef finishes cooking and the onions become translucent, turn the saute setting OFF. Then, stir in the taco seasoning, salsa, and tomatoes. Next you will add the rice. Two cups of uncooked brown minute rice. After the rice is added, measure 2.5 cups of water and pour into the mixture. Give it a stir before placing the top on the pressure cooker.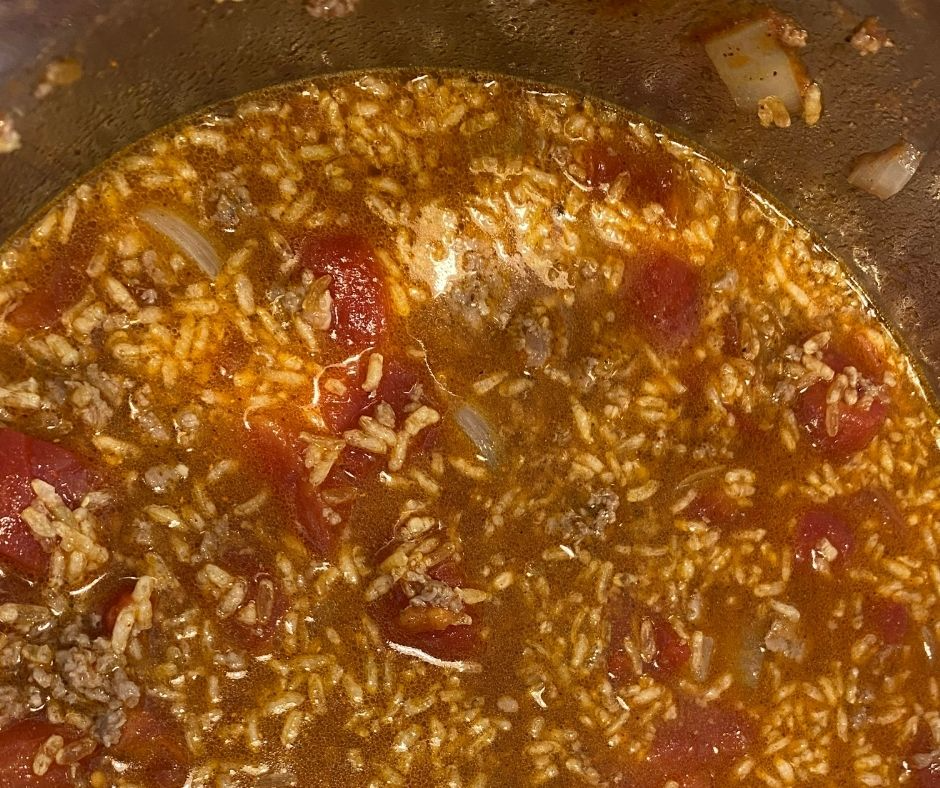 Now it is time to get pressure cooking! I promise this part isn't as scary as it sounds! I've been using an Instant Pot for over three years. I hesitantly purchased one, afraid it would become just another kitchen appliance that collects dust. When it showed up on our doorstep I immediately removed it from the box and started reading the manual. That night I made spaghetti. Of course I assumed I was doing everything wrong and it was going to blow up in my face at any given moment, but it didn't…and the meal actually turned out okay!
Anyways, back to the food. To start pressure cooking, place the top on your pressure cooker while pressing down and twisting. Make sure it is locked in place by gently attempting to lift up on the handle. Double check that the valve is set to sealing instead of venting. If it is set to venting, the pressure will not build inside. Finally, program it to pressure cook for 6 minutes. This will actually take longer than 6 minutes, let me tell you why…
It takes time to build up the pressure inside. I have found that the more you have inside, the longer it takes. When I make meals with pastas or a large batch of soup, the machine takes longer to come to pressure. In my opinion, it is still a great option because you don't have to babysit it as you would the stove. Your pressure cooker will simply say 'on' while it is building pressure. When the cooking actually begins it will beep and then the timer will count down from six minutes. After the six minutes of cooking has passed, you will see an L and a timer on the screen. That is how much time has passed since it finished pressure cooking.
For this particular recipe, don't touch anything until the screen says L 6:00. This means that after the six minutes of pressure cooking, you are letting pressure 'naturally release' for six more minutes. This is helping the rice finish cooking. After the additional six minutes have passed, flip the valve on the top to 'venting'. You will immediately hear the air escaping. After a couple of minutes the pin on top will drop down. It is now safe to remove the lid.
While the pressure is releasing, open the black beans to drain and rinse them. If you choose to add corn, you would also drain the can at this time. Remove the lid and then gently stir in the black beans and corn. Gently place the lid on top for 3-5 minutes to warm the beans and corn. The contents inside are extremely hot so it usually doesn't take too long. It is important not to pressure cook the beans or they will get too mushy. If that is your thing, go for it.
Finally, it is time to eat. I like to get all of the fixings ready while the pressure cooking is going on, that way we can eat ASAP. To assemble your burrito bowl, scoop the burrito mixture into a bowl. Top with cheese, sour cream, cilantro, lettuce, and chipotle ranch. At least that is my favorite combo. Ryan enjoys adding black olives and salsa to everything he eats, this recipe is so simple to switch up to use whatever you have on hand.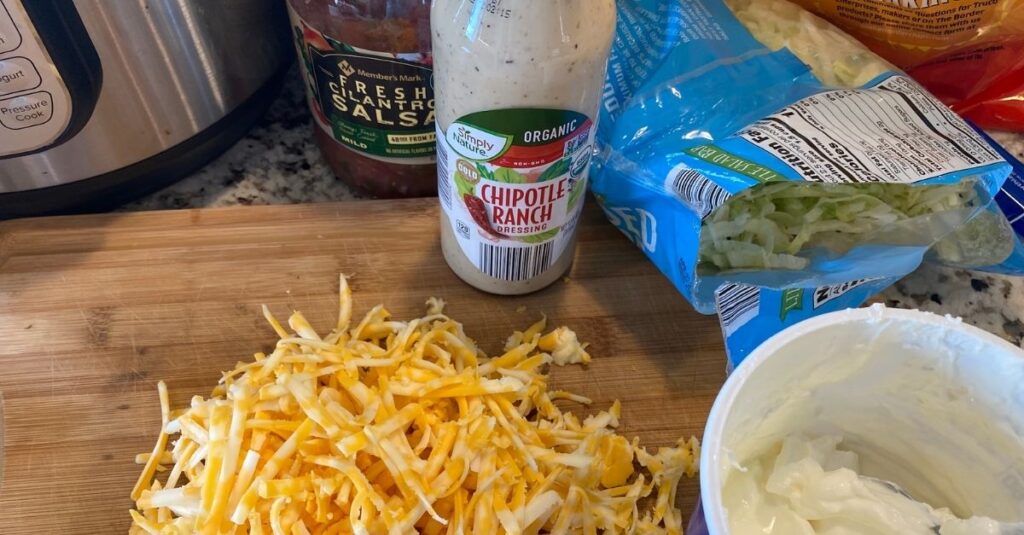 Leftovers?
No problem! You can enjoy burrito bowls as leftovers for 2-3 days after cooking. Another way to enjoy this recipe is using it to top a plate of nachos, or roll up in a tortilla shell as an actual burrito! Don't be afraid to try new things, the worst thing that can happen is you don't like it. Either way you learn something.
Hope you enjoy it!
Emily
Easy Pressure Cooker Beef Burrito Bowls
Ingredients
2

lb

ground beef

1½ lb works, too!

1

onion

diced

1

tbsp

minced garlic

1

tsp

pepper

½

tsp

salt

3

tbsp

taco seasoning

one package

1

cup

picante sauce

14.5

oz

Petite diced tomatoes

2

cups

Brown Minute Rice

Uncooked

2½

cups

Water

15

oz

Black Beans

drained and rinsed

14.5

oz

Canned corn

drained

Splash

Lime juice
Instructions
Set pressure cooker to saute for 15 minutes. Brown ground beef and onion. Season with the garlic, salt, and pepper.

Turn OFF the pressure cooker. Stir in the taco seasoning, picante sauce, tomatoes, and rice.

Measure 2½ cups of water and pour into the beef mixture, stir.

Place the top on the pressure cooker and set the valve to sealing. Select 'pressure cook' and set the time for 6 minutes.

When pressure cooking has finished, allow the pressure cooker to naturally release for 6 minutes. After 6 minutes, flip the valve to venting until the pin drops.

After all pressure has been released, remove the lid. Stir in the black beans and corn. Gently place the lid on top of the pressure cooker, you don't have to lock it, for 4-5 minutes to allow beans and corn to warm.

To assemble your burrito bowl, scoop the burrito mixture into a bowl and top with your favorite fixings!